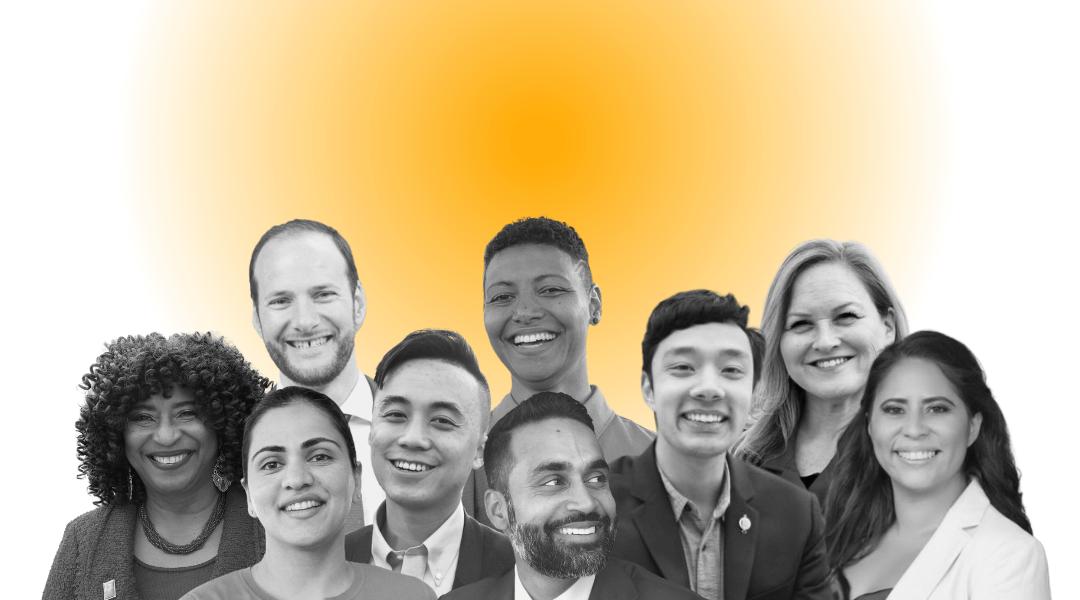 Statement on California Primary Election Results
The California Primary Election on June 7 was an important opportunity for our communities to come together, build power, and vote on their values from the city to the federal level.
Bay Rising Action endorsed several progressive community leaders across the Bay ahead of the California primary, organizing to support candidates invested in equity, justice, and opportunity. Additionally, Bay Rising Action made endorsements in two key measures on the ballot: yes on Measure B in San Jose, and no on Proposition H in San Francisco. See our coalition statement on progressive criminal justice reform in this election here. The 2022 primary also marks our first election working in partnership with California Working Families Party (WFP), which welcomed its California chapter with our support in July 2021. The California Working Families Party is amping up support for progressive leaders and elected champions in our state to fight for the future our communities deserve.
Democracy works best when it reflects all our voices — no matter who we are, what we look like, or what's in our wallet. Unfortunately, this election saw exceptionally low voter turnout. There may be many factors at play here, but San Francisco, for one, has seen a grueling three elections in five months. Piling on elections with recalls, primaries, and special elections weakens our democracy and adds to voter fatigue, because fewer people vote, so we are left to make decisions with fewer people. We'd like to see recall reform, along the lines of the SF measure that failed this time around. Additional and earlier investment in voter outreach, especially face-to-face and 1:1 conversations, would also make a big difference. San Jose has taken the lead on the voter turnout issue, with its passage of Measure B on Election Day. This legislation moves the mayoral election to presidential years, which is expected to increase voter turnout as much as 30%.
Whether our endorsed campaigns won the election or not, we look for the lessons and legacies left by these key races. With each election, we are shaping the future of the Bay Area and California towards government that works for everyone.
Results of our Endorsed Races:
Wins
California Assembly District 24

California voters have reaffirmed their commitment to Alex Lee, as a powerful progressive voice on the State Assembly organizing for the working-class communities of color in his district. We are encouraged and excited to see what Alex Lee continues to bring to the State Assembly, as he's set a precedent by proposing bold new measures that protect renters and move towards a more equitable economy.

California Assembly District 20

Bay Rising Action is saddened by Jennifer Esteen's loss, given her leadership as a former nurse, longtime union organizer, and advocate who comes from the grassroots. We remain encouraged by her campaign and commitment, and look forward to seeing where her future organizing leads. Fortunately, the East Bay has shown its support of Liz Ortega, our other dual endorsement for this race. Ortega is a longtime labor activist with a proven track record of advocating for working people. We continue to endorse her campaign to represent the people of Assembly District 20 in the State Assembly. Liz Ortega has dedicated her career to representing the working-class people of Alameda County, and we know she will take that cause to the State Assembly.

California State Senate District 10

California voters have shown their trust in Aisha Wahab as a community organizer deeply connected to the community of Hayward. Bay Rising Action continues to support Aisha Wahab's candidacy and is determined to see her bring her perspective to the state legislature.

San Jose Mayor

San José has shown its support for Cindy Chavez in the primary election. Bay Rising Action continues to support her candidacy for mayor of San José; Chavez is a longtime labor and community ally with a history of partnering with grassroots organizations that represent working families.

San Jose Measure B

San José voters agreed that democracy works best when it reflects all our voices. By supporting this common-sense reform that moves San José's mayoral elections to presidential years, voter turnout in San José will increase by up to 30%. This change comes from grounded organizing work, community support, and the need for all voices to be included in city politics, no matter zip code, race, or income.

Alameda County District Attorney

Alameda County residents propelled Pamela Price into the lead for the November election for District Attorney. In a nod to the overwhelming demand for change, all four candidates in the race campaigned on reform, and Price's position as top vote-getter confirms support for ending mass incarceration, expanding diversion programs, holding police accountable for misconduct, and investing in public health and social services. Bay Rising Action is confident Price will maintain her lead to become the next Alameda County District Attorney and co-govern in partnership with communities.

Alameda County Superintendent of Education

Bay Rising Action congratulates Alysse Castro on her win as the next Alameda County Superintendent of Education. With experience ranging from classroom teaching to management and training, she is committed to equity and justice in schools as well as ending the privatization and closing of public schools – challenges that have most deeply impacted Black and Brown students. We are excited to see what she brings to this role through her commitments to the community.

Rebecca Kaplan, Alameda County Board of Supervisors District 3

Alameda County has shown its support of Rebecca Kaplan, who has a proven track record of supporting movement-building on issues such as police reform, rights of working people, and more. Bay Rising Action continues to support Rebecca Kaplan's candidacy for the Alameda County Board of Supervisors as we head towards the November general election. There's a big opportunity on the Board of Supervisors to change how our public money is distributed: right now, the Board gives vast amounts at the county to the sheriff to lock people up and criminalize our communities. Rebecca Kaplan is interested in changing that. She has the policy chops to get things done, and we ask her to deepen her commitment to community engagement. Given the current makeup of the Board of Supervisors, we need to ensure that this seat goes to someone who won't be afraid to be the lone progressive voice. We believe that Rebecca Kaplan is unafraid to make bold moves to make the changes that we need in the county.
Losses
California Assembly District 21

James Coleman is a progressive champion for the people of South San Francisco, with a history of fighting for universal childcare and a more equitable economy for his constituents, and we are saddened by this loss, as he would have been an incredible asset and advocate in the State Assembly. Bay Rising Action has no doubt James Coleman will continue to be a progressive force in San Francisco, and we support his future of organizing and power-building.

Santa Clara County District Attorney

Law enforcement spent over $90,000 to back the incumbent DA, Jeff Rosen, whose policies remain out of step with the progressive values of Santa Clara County. Time and time again, county voters have supported statewide criminal justice reform measures, while Rosen sought the death penalty for an innocent man, protected officers who sexually harassed women, and continues to charge and punish some 16- and 17-year-olds as adults. Bay Rising Action will continue to support progressive prosecutors like Sajid Khan who represent their communities' values and do the best job of seeking justice and addressing the root causes of crime. We also want to commend Khan for running a campaign that built political power and challenging a conservative incumbent who has a record of failing our communities.

San Francisco Proposition H

The recall of District Attorney Chesa Boudin is a disappointing result of one leader being held solely responsible for longstanding problems in San Francisco. Instead of investing in solutions that we know keep all communities safe – like affordable housing, living wage jobs, youth services, and expanded mental health services – right-wing donors and tech and real estate investors chose to go after DA Boudin, diverting our attention to a wasteful recall when there was real work to be done to ensure residents of San Francisco are safe.
Bay Rising Action calls on Mayor London Breed to appoint a district attorney who will continue the necessary work of DA Boudin, including expanding diversion programs, protecting workers against abuse and wage theft, and holding police accountable when they break the law. San Francisco deserves leaders who will work to make safety and justice a reality for all residents, and not at the expense of people who cannot afford a fair shot in our current system.
We know that it doesn't end here and that San Franciscans deserve and want more. Read San Francisco Rising Action's full statement on the passing of Proposition H here.