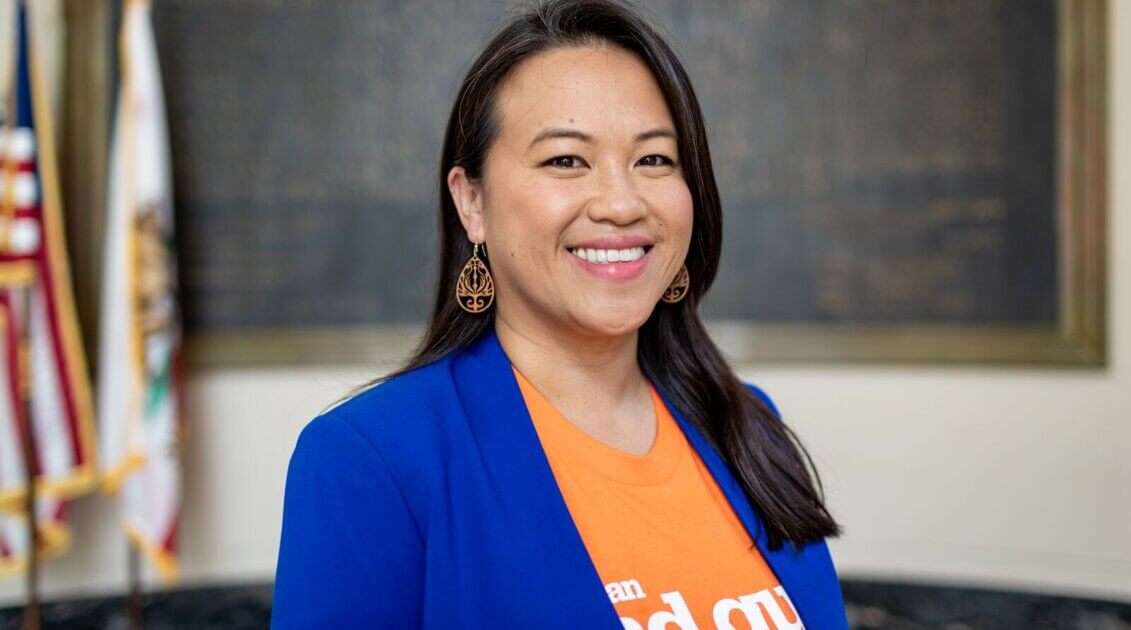 "We don't pick ourselves" to run: An interview with Oakland Mayor Sheng Thao
In April 2023, Oakland Rising Action interviewed newly elected Oakland Mayor Sheng Thao. Thao's commitment to social justice and equity has been a driving force throughout her career – she is a dedicated public servant and community leader. Here are some of her thoughts on her running for office and the importance of community organizing.
---
Oakland Rising Action:
Hi, Mayor Thao. Thank you very much for joining me today to share your experience of running for the Oakland mayor's seat. After representing District Four, what motivated you to decide to run for Oakland mayor?
Mayor Thao:
My career at City Hall began way before representing District Four as a councilmember. After going to Merritt Community College and then transferring to UC Berkeley, I got an internship with Councilmember Rebecca Kaplan to help pay for my son's clothes since I was a single mom.
For me, it's always been about uplifting working families – families whose voices have been underheard and underserved for far too long. When I ran for City Council in 2018, that's what I wanted to do. I wanted to ensure that all communities could be healthy and vital, so everyone could actually feel safe.
Going from councilmember to running for mayor wasn't an easy decision. It was a hard decision because I was really putting myself out there, myself and my whole family – I have two kids, I have a partner. I had to have hard conversations about whether or not we would run when being asked by so many of our partners and constituents.
For someone like myself to run, we don't pick ourselves. It's the community really pushing to make sure that we have a progressive voice. I felt like it was my chance to run for this seat as the progressive candidate when so many moderates and neoliberals were running.
ORA:
Right, and you ran a really big race. What were some of the highlights of the campaign?
ST:
We made do with the little team that we had: we had a skeleton crew like a lot of progressive candidates. We don't get millions of dollars from private venture capitalists or special interest groups. I've been very thankful for our labor unions, who are Oakland city workers and residents really coming together. They helped ensure that we had a strong campaign and volunteer program.
The best part about the campaign was reaching communities that hadn't been reached by many campaigns yet, and empowering them to say, "our vote matters." There are so many immigrant groups here in Oakland that we worked with who turned the race in our favor. That was something that I will always carry with me.
ORA:
What were some of the challenges that you experienced, especially as a progressive Hmong woman running for this seat?
ST:
Some of the challenges were about exactly that, about running as a progressive Hmong woman. We have this whole faction right now, this whole movement around trying to make "progressive" a bad word. You have the conservative side and others really tripping on this bandwagon around making it so that "progressive" is tied to something bad. That was a challenge, but really living in my values and in my truth, and explaining to people what progressive truly means, was a breakthrough.
Running as an Asian woman – people have their biases and stereotypes of what an Asian woman is, as in, "Is an Asian woman somebody who can be the CEO of a city?" I was the second youngest candidate, and so that was also a challenge. People were questioning whether I was ready to run the city of Oakland. They didn't know that actually, I am the most qualified candidate to run Oakland because I've spent over a decade in City Hall, working my way up, and I understand the city.
All of those were challenges, but they were not challenges that I felt that I couldn't overcome. They were just more opportunities to get in front of as many people as possible to really educate them about my experiences and my ability to be the CEO of Oakland.
ORA:
How did Oakland Rising Action's support and endorsement make a difference in your race?
ST:
Oakland Rising Action made a huge difference, not just in my mayoral race, but also in my city council race. As a candidate, you're organizing so many constituents in the city of Oakland. It's really difficult. As part of a working family myself, you vote based on the organizations or people that you know, as in, someone vouched for this person. When you're working three jobs, you're not gonna have time to do research on every single individual, especially if there are something like 15 people running. And so you really depend on organizations that you trust, that have the same values as you, to tell you which candidates they have vetted, which candidates are going to present your voice at the table.
I know that Oakland Rising Action did a lot of that work through sending out newsletters, mailers, e-blasts, and posting on social media to educate voters about who Oakland Rising Action vetted, how they vetted candidates, and who they are endorsing to be the next leaders of Oakland. Your work was incredibly impactful for this campaign. As you know, we won by 677 votes. Every single vote counts.
ORA:
Absolutely. Every election reminds me of how important our voter outreach work is. Looking back at your campaign, what would you do differently next time?
ST:
In every single campaign, you make mistakes. It's easy to be hard on yourself as a candidate.
I was really proud of activating young people on the campaign trail and training them. Next time, I'd invest more money into paying young people to actually help run the campaign, so that we not only create a bench of future people who can run progressive campaigns but also invest in future leaders.
ORA:
I agree and I think that's a great idea. There's a large pool of young voters that we can definitely tap into. What advice would you give to women of color who are thinking about running for office?
ST:
To all women of color who are thinking about running for office, do it. It's going to be difficult and challenging. Do not allow people's words to discourage you. We all have something to give and to present at the table. You deserve to be at the decision-making table because so many of these decisions impact our families. I mean it when I say that women – women leaders, and women of color who lead cities – lead in a totally different way. We lead through our hearts, and not just that, but also through lived experiences. This will only make our city stronger. So continue to do you and make sure to be true to yourself.
ORA:
Thank you for that closing thought. Thanks again for your time!