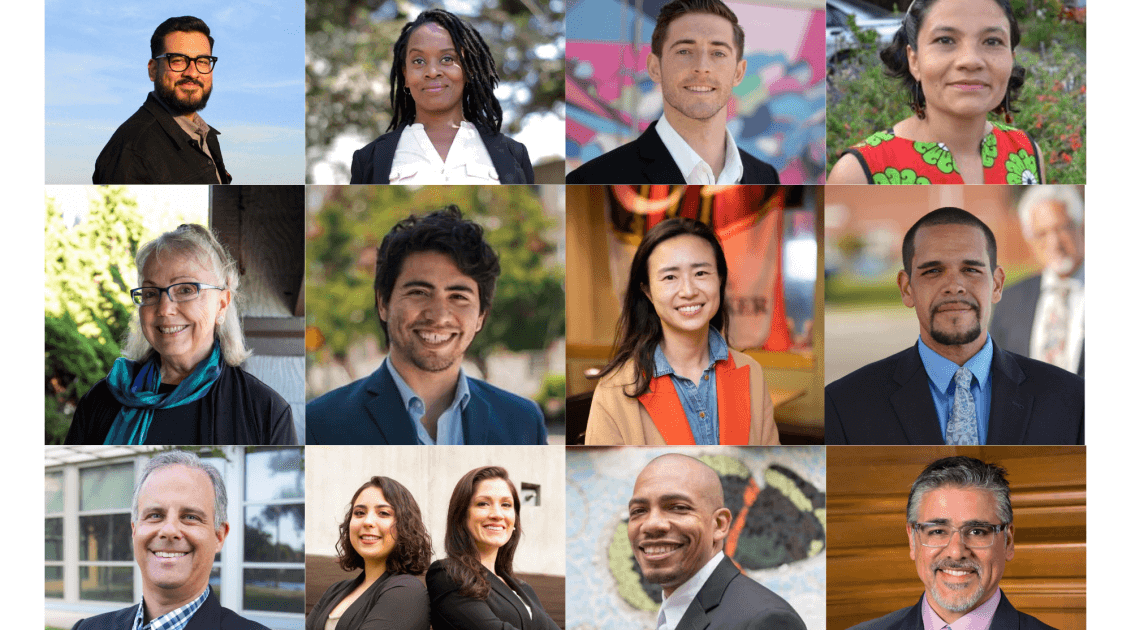 A Leaderful Vision for Equity and Justice
Here at Bay Rising Action, we know that our communities are powerful and leaderful. When we elect accountable leaders who truly represent us at every level – from our local school boards to our city councils to our county boards of supervisors – we help clear the path for our movements to win racial, economic, and environmental justice.
Bay Rising Action endorsed dozens of community leaders in races all across the Bay ahead of the November 2020 election. Voters made their decisions and organizers ran their campaigns in a new and uncertain landscape shaped by the COVID-19 pandemic, escalating housing and economic crises, anti-Black and racist violence, and growing demands for real solutions like the Green New Deal.
Throughout all of this, from first-time candidates to long-time electeds, these bold and visionary leaders ran inspired campaigns to realize our collective vision for equity, justice, and opportunity. While we are highlighting just a few of our endorsed candidates here, we're wishing each and every one all the best this year.
Oakland
City Council is now headed by a strong progressive majority, in spite of the millions in corporate and billionaire money coming in to Oakland races including from Lyft and big real estate developers. Progressive campaigns were able to fend off the onslaught in some ways, leveraging decades-long relationships between voters, leaders, and community organizations like Oakland Rising.
We want to congratulate Carroll Fife and Richard Santos Raya in particular for their inspired campaigns taking on incumbents who have consistently voted against our communities' best interests. Carroll Fife, now the Oakland Councilmember for District 3, is advancing a platform to advance a Black New Deal, divest from policing and meet the housing crisis head-on – and her campaign ultimately unseated a two-term incumbent whose years of questionable decision-making has invited market-rate development and fueled the displacement of Black and low-income residents.
Richard Santos Raya's visionary platform called for participatory budgeting to ensure that the city budget reflects the will of the people and supported the Black New Deal to reinvigorate the local economy while promoting racial justice. He also advocated for defunding policing and reinvesting in community; for some candidates, naming this priority became an issue, and so we are grateful to Richard for his courage. Although he lost this election, his campaign championed a vision for a people-powered Oakland that we can all get behind.
Hayward
We have lots of appreciation for the Hayward Challenger Slate 2020–Elisha Crader and Lacei Amodei–and Néstor Castillo, our endorsed candidates for Hayward City Council. Lacei and Elisha made the right to housing and community safety core to their shared platform. Specifically, they advocated community control over policing, unarmed first responders, and social services such as addiction recovery, job training, and re-entry as long-term strategies. The Challenger Slate also centered workers' rights, a just economy, and climate justice and transportation. Néstor, a human rights advocate and union organizer, continues to be a true champion of immigrant rights, shifting public money from policing to community services, and racial and economic justice. Though they did not win this election, we look forward to how these ideas will grow in Hayward and what these courageous candidates will accomplish in the future.
Richmond
Many thanks to Claudia Jimenez, Melvin Willis, and Gayle McLaughlin, also known as "Team Richmond," who swept the Richmond City Council elections. Claudia is a talented organizer who actively supports the community's interests over corporate interests and her priorities are clear: housing is a right, healthcare for all should be accessible and affordable, and all citizens should be able to access essential city services.
Melvin has been deep in the struggle for housing and economic justice for years, and he is keeping his sights on serving the people of Richmond, not the corporate interests.
As an existing member of the City Council, Gayle has proven that she follows the lead of movements on the ground, fights tirelessly for racial and climate justice and helps to build lasting power for the communities she represents.
The Team Richmond platforms prioritize housing truly affordable to Richmond residents along with addressing homelessness, illegal dumping, and human trafficking. Congratulations to Claudia, Melvin, and Gayle, and to the people of Richmond!
San Jose
Jake Tonkel, running for the District 6 seat on San Jose City Council, spoke out for sustainable housing and transportation; economic justice via worker cooperatives, public banking, and a higher minimum wage; and equitable public schools. He also was unafraid to run on his values of environmental justice; representation and accountability; and racial justice, even when his positions sparked fear and anger among the opposition. (The Silicon Valley Organization PAC, the campaign arm of the region's largest chamber of commerce, ran a racist attack ad against Jake using a photo taken in South Africa and, with the San Jose Police Officer Association, peddled outright lies about his campaign.) Though Jake lost this run, we need more principled candidates like him who commit to addressing the root causes of crime via our most important tool–our public budget–and refuse to accept corporate money. We also need to make white supremacy visible when it shows up in political campaigns and address racism head-on in all its forms.
David Cohen, now the City Councilmember for District 4, pledged to champion sustainable development, affordable housing for all, and transportation alternatives that connect neighborhoods efficiently and with less traffic. He's also making sure every neighborhood is safe and clean, creating improvements like better access to parks with current residents instead of at their expense. Thank you Jake and David!
San Francisco
SF Rising Action Fund hit the pavement every day in the fall to persuade voters in the Richmond that Connie Chan will represent them with fierce integrity in City Hall. And they won Connie's race–the most contested supervisor race in 2020–by just 125 votes! Connie's ranked-choice voting strategy was critical to this win and we need to continue to educate our families, neighbors, and potential candidates about ranked-choice voting, because every vote counts. Once again, it takes all of us to win: community forces, labor, political parties, and committed individual volunteers!
We're also grateful to Kevine Boggess for already putting students, families and educators at the center of decision-making on the SFUSD Board of Education, as well as helping to rebuild trust and accountability throughout the district, leading with equity, and funding classroom needs first.
At the same time, we lost a significant race this year in District 11, home to the city's largest number of families and the most diverse community. Our hearts are heavy with the knowledge that John Avalos will not be SF's new D11 supervisor, despite a powerful grassroots campaign driven by volunteers that spent countless hours door knocking and phonebanking. Despite the outcome, we're confident that SF Rising Action and the whole team will build off this incredible grassroots campaign. Mil gracias to John Avalos and his team of passionate organizers, particularly Amy Aguilera, who was a fearless leader to get out the vote in our Latinx, immigrant communities.
---
Congratulations to everyone we've mentioned above and every single people-powered candidate who ran in November. Whether they won at the ballot box or not, our communities and our movements will be stronger because of their vision and their work in 2021 and beyond.
Our immense gratitude also goes out to the staff, families, and volunteers that campaigned to ensure that our communities' voices were heard. Together we hope to build an elected leadership that not only reflects the majority values of our region, but also looks like the people of the Bay Area in all our diversity. (Look forward to an updated report on the diversity of local elected officials this spring, and our launch of the Working Families Party in California and its regional chapter in the Bay Area!)
Election by election, pandemic or not, we are shaping the future of the Bay Area and centering working-class people of color in Bay Area government. In this world that's been undeniably changed by COVID and bolder demands for policy that works for everyone, we can't wait to see what's ahead for the Bay Area and this slate of incredible leaders!