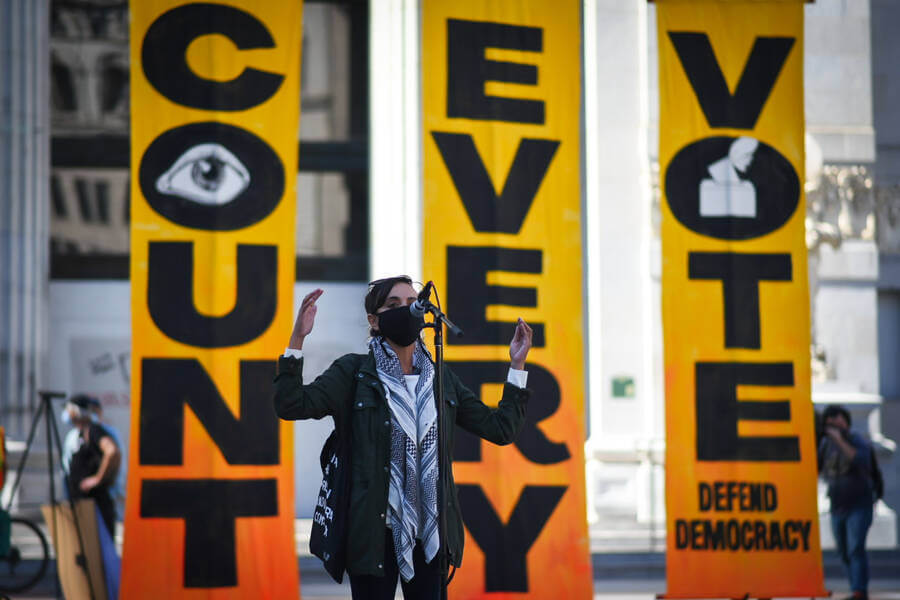 'Today Is About Defending Democracy': People Take to the Streets to Stop Trump's Attempted Coup
In These Times | Brooke Anderson | 11/04/2020
Rough­ly 13 hours after Pres­i­dent Don­ald Trump base­less­ly declared vic­to­ry in the 2020 pres­i­den­tial con­test and demand­ed that all vote count­ing stop, near­ly 1,000 activists with com­mu­ni­ty orga­ni­za­tion Bay Resis­tance took to the streets of Oak­land, Cal­i­for­nia on Wednes­day to ensure that every vote is count­ed. They are part of a nation­wide grass­roots effort to mobi­lize in defense of the demo­c­ra­t­ic process — and stop Trump from stag­ing a coup — in the days and weeks ahead.
With mil­lions of votes left to be count­ed, Trump false­ly declared vic­to­ry at 2:28 a.m. east­ern time on Wednes­day and, through­out the day, repeat­ed his pre­vi­ous untrue claims that mail-in bal­lots are ille­git­i­mate — a move clear­ly aimed at pre­vent­ing the count­ing of mail-in bal­lots in key bat­tle­ground states. Those mail-in bal­lots are believed to over­whelm­ing­ly favor for­mer Vice Pres­i­dent Joe Biden, who is cur­rent­ly ahead in both the pop­u­lar and elec­toral vote count.
Read full article here.