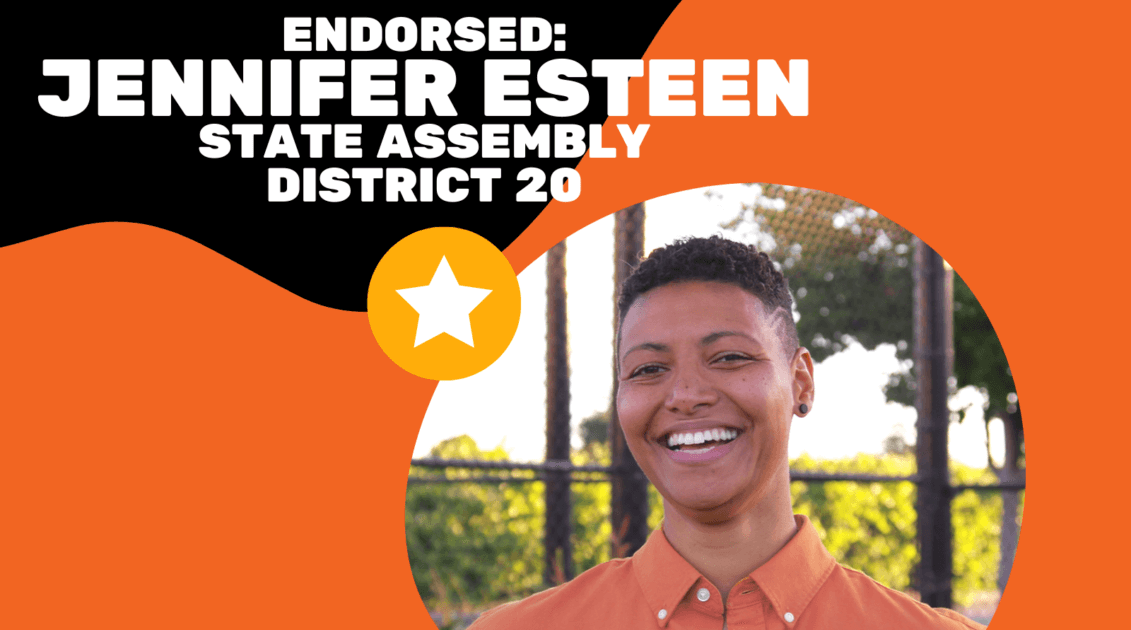 BAY RISING ACTION ENDORSES JENNIFER ESTEEN FOR EAST BAY'S ASSEMBLY DISTRICT 20 SEAT
Following 75-year-old incumbent's departure from race, Esteen poised to become first openly gay Black assemblymember and first woman since 1998 to represent the area
FOR IMMEDIATE RELEASE: Friday, Dec 10, 2021
Media Contacts: Irene Rojas-Carroll, Senior Communications Manager, Bay Rising Action, irene@bayrisingaction.org
Today, progressive political network Bay Rising Action endorsed former nurse, longtime union leader, and advocate Jennifer Esteen to represent Alameda County's 20th Assembly District. The announcement followed close on the heels of two important events yesterday: the California Working Families Party's endorsement of Esteen and the news that the incumbent is dropping out of the race.
The multi-racial, multi-issue network represents communities of color and working-class communities in Alameda County and beyond, whom conventional election campaigns have ignored.
"Jenn is a strong progressive candidate who will be the bold, community-connected leader we need in Sacramento," said Kimi Lee, Executive Director, Bay Rising Action. "Her platform shows she has deep values that align with the needs of residents of Assembly District 20, and she has committed to work closely with those everyday residents and grassroots organizations representing working-class communities of color. She has incredible energy and motivation to make change for the Bay Area, and the strategy to match."
"Bay Rising Action has long been a powerful force, advocating for working people and communities of color. I am beyond proud to receive their endorsement," said Jennifer Esteen, candidate to represent California's 20th Assembly District. "I decided to run to represent the people of Assembly District 20 because I am working to fulfill a similar mission. We need leaders and organizations who are willing to take risks and act boldly to achieve the changes our community so desperately need. I look forward to working alongside Bay Rising Action throughout the election and beyond."
Esteen stands out for her values and service to the Bay Area's residents, as well as the firsts she'd bring to the table. A former psychiatric nurse in the San Francisco General Hospital Psychiatric Emergency Room, Esteen now works for the Service Employees International Union Local 1021 as the vice president of organizing. Should she be elected, she would be the first openly gay Black assemblymember and first woman since 1998 to represent the area. In order to represent Alameda County fully and fairly, her campaign is rejecting all corporate contributions, including those from the oil and gas industry and real estate developers, as well as contributions from police associations.
Esteen spoke extensively with more than 30 Bay Area community leaders through the California Working Families Party endorsement process, including Bay Rising Action representatives. She has also earned the endorsement of movers and shakers including Black Lives Matter co-founder Alicia Garza, BART Board Member Lateefah Simon, the Harvey Milk LGBTQ Democratic Club, and many other organizations and individuals.
The statewide primary will take place on June 7, 2021. The general election will follow in November.
###
Bay Rising Action is a grassroots political network that champions strong leaders representing our racial, economic, and environmental justice movements and builds the political power of working-class, immigrant, Black, Latinx, and Asian communities. We unite these communities to create a community-based political infrastructure capable of electing leaders who will achieve the bold solutions we need and stay accountable to us, not corporate lobbyists.